ot only Bitcoin can look forward to strong price increases at the moment: At the time of going to press, the Ripple asset XRP exceeded the daily plus of BTC. Good timing: Just a few days ago, Ripple announced a prominent new addition from the US bank JPMorgan to its management floor.
With a price increase of more than 22 percent, the top 3 Altcoin XRP recorded even stronger growth than Bitcoin (BTC), which is currently chasing from one all-time high to the next. XRP is currently trading at $ 0.558 – an important resistance, as BTC-ECHO analyst Stefan Lübeck calculates in the altcoin analysis. If the bulls stay on the ball, the next price target is $ 0.682 .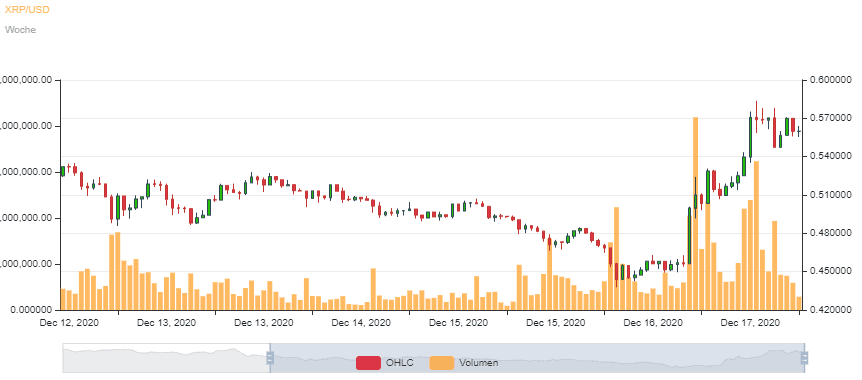 Ripple secures regulation expert from JPMorgan
Ripple's board of directors has received reinforcements from the traditional financial world. The FinTech company announced this on its homepageknown. Sandie O'Conner has over 30 years of financial industry experience, including serving as chief regulatory affairs officer at financial giant JPMorgan. She should seek regulatory clarity for the company for cryptocurrencies in the United States.
Brad Garlinghouse, CEO of Ripple, says of his newest board member:
Sandy has a high degree of respect from both her Wall Street counterparts and regulators. Her extensive network and deep understanding of markets, capital flows and banking will provide valuable and unique insights as new policies and regulations take shape in the United States.
Garlinghouse also emphasizes that the US needs a clear regulatory framework for crypto currencies that sets the rules and supports innovative US companies. O'Connor's experience and leadership would help Ripple on their journey to build a more inclusive financial system. She made it into the top 25 most successful bankers in the US and is considered one of the most powerful women in the financial industry.
Brad Garlinghouse: Bitcoin is unstoppable
XRP does not aim to overtake BTC. For example, Ripple's CTO David Schwartz spoke on an online forumto the question of what would happen if a hacker found a glitch or a bug in the Bitcoin logs. Schwartz said:
The bug or the glitch would be fixed and the hashing logs replaced by new ones.
Exactly something like that happened with the value overflow 2011 and the accidentally triggered fork crisis 2013. Ripple is currently flying pretty high. The third quarterly report released in November reveals that the decentralized protocol saw a 107 percent increase in the average daily XRP trading volume from the previous quarter . With the announcement of the new board member, this number should increase.